In-Home or Phone Sleep Consultations in Phoenix, Arizona and all over North America with Gentle Sleep Coach Tracy Spackman.
4 months old and sleeping worse than ever…
Difficulty falling asleep
Frequent waking
Waking for unnecessary feeding
Difficulty sleeping alone
 Napping problems
Unusual sleep cycles
Nightmares and night terrors
Wakes tired or cranky
Wants to Nurse all Night
Co-sleeping but not sleeping
She's keeping you up all night and it's driving you crazy
Children over 5 months could be sleeping 10-12 hours with Gentle Sleep Coaching.  We can start as early as 18 weeks if you are going crazy.  Tracy Spackman can help. No Cry It Out.
I am Tracy Spackman. The Gentle Sleep Consultant for Babies, and Children – I can teach you how to get your children sleeping through the night. I use scientific gentle methods that are evidenced based. I have a 97% success rate. No Cry It Out!
Talk to a live person, not email, not a book, not a computer generated plan, a living breathing person who listens and tells you how to get your child to sleep.  Real Sleep coaching.  Tracy Spackman counsels you, you  sleep coach your child.  No strangers.  No guessing.  I've been called a Sleep Doula, Sleep Trainer, Sleep Coach, Sleep Counselor, Pediatric Sleep Specialist, Sleep Lady , Sleep Guru, Sleep Genie Sleep Whisperer and even a Miracle-Worker but I call myself  The Gentle Sleep Coach.  I'm here to help!
Gentle Sleep Training is done in person or over the phone with me, Tracy Spackman to teach  parents how to get your children to fall asleep and stay asleep all night.  Sleep Training methods are gentle and supportive.  No Cry It Out Methods are ever our first choice.  You can nurse your baby and sleep coach them to sleep all night.  Night feeding can be part of the plan.  We are pro nursing.  We are pro attachment-theory parenting. Our sleep training and sleep coaching methods are modified to meet your specific needs and it works. Click here for prices.
Tracy Spackman builds personal sleep plans  to help families get better sleep fast!
Call to get Started. FREE 15 minute initial evaluation!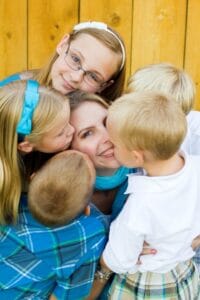 We use only gentle methods, supporting the child and parents through the process of learning healthy sleep habits.  Initial personal phone calls are free.  Tell us what's going on and we can discuss how we can help you.
Tracy Spackman is a Certified Gentle Sleep Coach. She can help you achieve optimal sleep with her personal touch.  She will speak with you personally, build you an individualized sleep plan and help you through the plan as you learn how to teach your child how to fall asleep and stay asleep all night.
Whether your Baby can't sleep or your Toddler doesn't sleep, you can count on Tracy Spackman  to help your family sift through all the sleep advice out there and use evidence based techniques to help your family get better sleep. Click here for prices.
Tracy Spackman has 5 children of her own and has been extensively  trained and certified by Kim West The Sleep Lady.
Falling asleep and sleeping through the night is a learned skill.  Children who don't learn this skill can have trouble sleeping throughout their life.  This is an important skill for parents to teach their children.  A healthy baby with
their doctor's approval can learn to sleep through the night as early as 5 months old.    Usually Sleeping 11 hours straight.
A well rested baby is a happier and healthier baby.
Schedule a consultation today!
Tracy Spackman – Certified Gentle Sleep Coach
Call Me     602-524-7610
Listen to my radio podcasts !
 over 100 hours of Certified Training with Kim West, LCSW-C The Sleep Lady ®
Also featured with
Tracy Spackman is a Member in good standing with the following sleep associations.