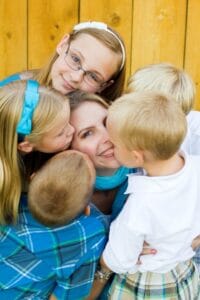 Tracy Spackman provides sleep support services for tired parents and their tired children.
Sleep Consultations are offered in person locally or over the phone and Skype for families throughout North America.
Local service areas:  Ahwatukee, Phoenix, Scottsdale, Glendale, Tempe, Chandler, Gilbert, Queen Creek. (Travel fees may apply to other areas. )
Tracy's Services include:
phone consultations
in-home consultations
classes at the Chandler Regional Medical Center and Mercy Gilbert Hospital
free classes at Babies R Us
free classes at local mom's groups
teaching group consultation workshops
Tracy Spackman is the mother of 5 fabulous children. She still remembers what it was like to be up frequently through the night when her children should have been sleeping all night. Tracy has extensive training and is a Certifed Gentle Sleep Coach.  Tracy is passionate about all things family and is regularly trying to improve the organization and function of her family.  Tracy considered writing a book about her great ideas for fabulous family functioning but too many of those books have already been written, she does a blog instead.  Tracy sees the need for Sleep help in our sleep deprived families today so this is the direction she is taking her passion.
Tracy's sleep coaching uses a variety of gentle sleep techniques and customizes the plan to the family and the child.  We recognize that all children are different and all families have varying needs.  Children need support as they learn the valuable of skill of putting themselves to sleep.  Tracy can teach parents the best methods to support their children as they transition through the learning process.  Tracy uses the gentlest methods possible to see results as soon as possible.  She works with children 4 months old to 8 years old.
Tracy volunteers as a children's music leader and is trained in personal and family preparedness, supports her husband and sons in Scouting, encourages music and sporting activities with her children and is actively involved with her church.  Tracy believes that one's education never has to stop regardless of their family situation.  Tracy reads as many good books as she can on any and all subjects, especially books about raising a fabulous family.
In Tracy's spare time, she loves cooking- trying to make everything from scratch just like her mother, designs scrapbook pages for her family, hosts weekly swim party play groups in the summer, takes her children on wholesome family adventures and reads as much as she can.
About Me.
My Name is Tracy Spackman.  I am passionate about all things family and I love this sleep topic.  It's fun to have this in common with my sister-in-law Andrea Strang from Ontario, Canada.  She is my inspiration. I witnessed the magic of sleep coaching with my good friend and it's been great to offer her extra support in the program.  I have a background in management with design on the side.  I have been family focused for the past 17 years and have wanted to write a book about what I've learned along the way.  I think I'll start with a blog. I have a terrific husband and 5 fabulous children ranging in ages from 10-19.  I'm a Canadian living in Phoenix, Arizona and I love the sun.  I am a trained and certified Gentle Sleep Coach.  I was trained by Kim West the Sleep Lady.  I have had every success in sleep coaching.
I had a friend who was miserably sleep deprived because her young 1 year old child was miserably sleep deprived. Neither of them was getting enough sleep. Through sleep coaching, her world changed. She learned what pieces to the sleep puzzle her 1 year old had been missing and once put in place, both their worlds changed. Once the baby was sleeping, so was my friend. They both became happy and adjusted. I was amazed at the power of a good night's sleep. I decided that this was the perfect career for me. I am passionate about all things family and sleep is a big part of the family puzzle.
Here is a link to a video of me talking about being a sleep coach.